Micron Top Mount Sand Fiberglass Filters
Waterco's digitally controlled filament winding machine faultlessly winds continuous strands of high quality fibreglass filament under controlled tension filament to create a seamless one-pieces vessel with refined consistency and superior quality. There are no welds or seams or special tank linings which can corrode or electrolyse.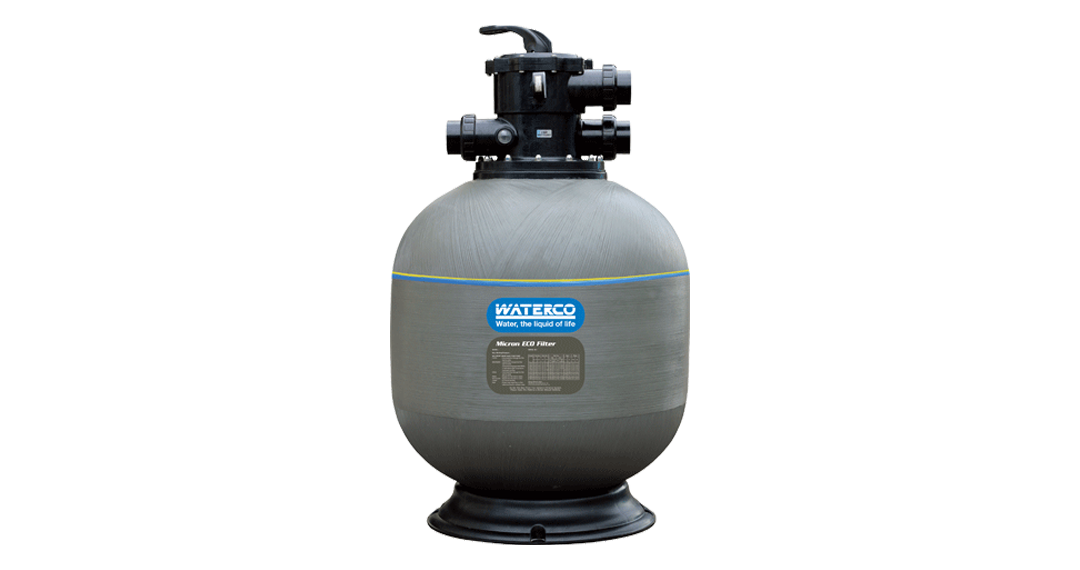 Micron media filter features an hydraulically efficient lateral system, which facilitates energy and water savings.
Fish Tail lateral system - hydraulically balanced flow and backwashing
Water saving up to 30%
Ideal for low powered and energy efficient pumps
Corrosion and UV resistant
Pressure rated at 250kPa, 400kPa available upon request
Filter Model

Valve Size

Inner
Diameter

Filter Area

Bed Depth

Filtration Flow Rates

Max Flow

Media Volume

Glass Pearls

Ecopure Glass

Sand 16/30

Zeoplus 0.6-1.2mm

S500
40 mm
500 mm
0.20 m²
280 mm
120 lpm
160 lpm
65 L
105 kg
86 kg
95 kg
78 kg

S600
40 mm
600 mm
0.28 m²
295 mm
168 lpm
224 lpm
106 L
171 kg
141 kg
155 kg
127 kg

S602
50 mm
600 mm
0.28 m²
295 mm
168 lpm
224 lpm
106 L
171 kg
141 kg
155 kg
127 kg

S700
40 mm
700 mm
0.38 m²
340 mm
228 lpm
304 lpm
158 L
254 kg
210 kg
231 kg
190 kg

S702
50 mm
700 mm
0.38 m²
340 mm
228 lpm
304 lpm
154 L
248 kg
205 kg
225 kg
185 kg

S750
50 mm
750 mm
0.44 m²
340 mm
254 lpm
352 lpm
175 L
282 kg
233 kg
256 kg
210 kg

S800
50 mm
800 mm
0.50 m²
420 mm
300 lpm
400 lpm
233 L
375 kg
310 kg
340 kg
280 kg

S900
50 mm
900 mm
0.64 m²
420 mm
284 lpm
512 lpm
322 L
518 kg
428 kg
470 kg
386 kg