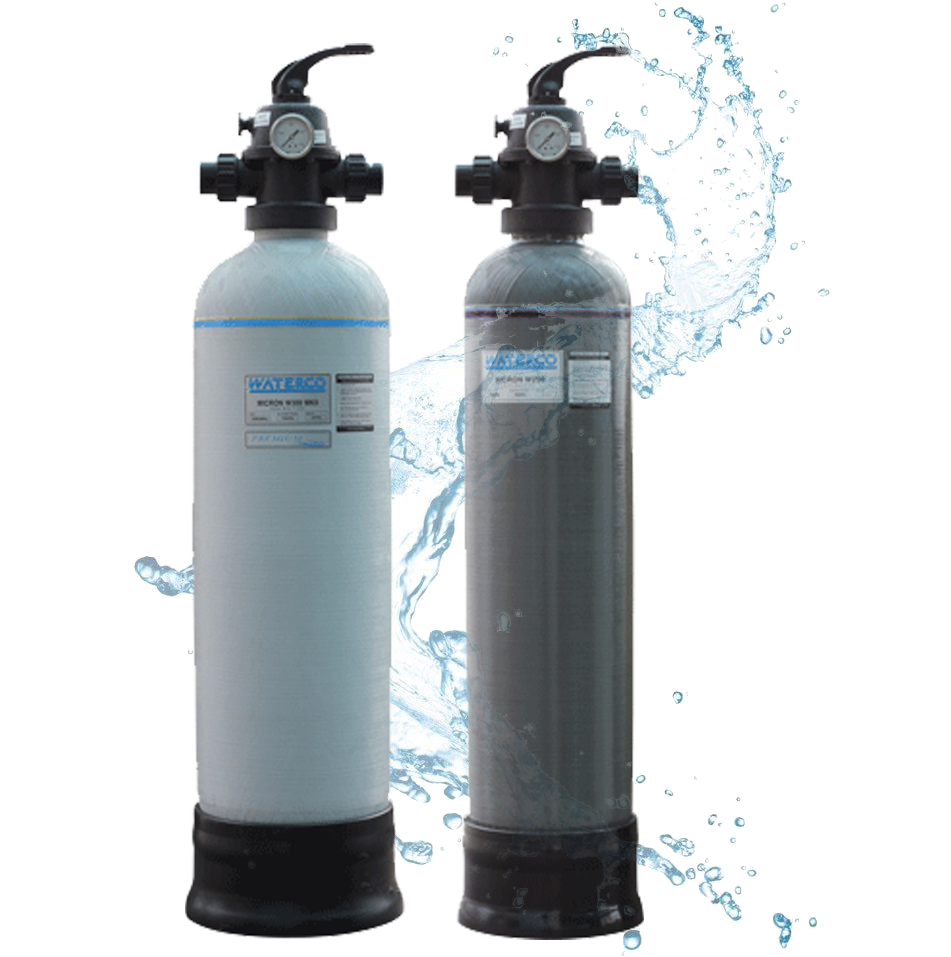 Micron W Series filters all the water entering the house, providing clear water to every tap.

Clear water for cooking and cleaning

Cleaner, brighter laundry

Refreshing baths and showers

Extended service life of drinking water purifiers
Strength and Durability   

A Micron W's innovative design and superior construction techniques provide it the strength to cope with working pressures up to 700kPa. (Equivalent to 71 tonnes per square meter.)

Refined Filament Winding Waterco's advanced filament winding machine winds continuous strands of fibreglass onto the filter's inner tank to strengthen the filter so that it is able to withstand high water pressures as well as fluctuating water pressures.

Micron

Series

ActiveZeo

W 250/300

Model

WM 250/300

MK II

Generation

MK III

7.0 Bar (101 psi)

Pressure Rating

7.0 Bar (101 psi)

Single

Media Layer

Dual

ZeoPlus

Media(s)

DMI-Plus & ZeoPlus

10 micron (0.01mm)

Micron Rating

10 micron (0.01mm)

Sieving ~ Depth Filtration ~ Adsorption

Filtration Process

Sieving ~ Catalytic Removal ~ Depth Filtration ~ Adsorption

- Removes ammonia
- Easy backwah
- Low maintenance

Features

- Removes iron
- Removes manganese
- Removes ammonia
- Easy backwash
- Low maintenance
What is the difference between sand filter and Micron/ActiveZeo?
Sand filter is for basic filtration of sediment. Waterco's Point of Entry (PoE) filters sediment and it also remove Ammonia, Iron, and Manganese (depends on filter model) in water. They are lighter than sand and it is easier to backwash.

Can the filters be installed in apartment or condominium?
Yes, but depends on the apartment's / condominium's management approval, and this is meant for single unit only.
Centralised filter for the entire building is available too, you may write to us at sales@waterco.com.my for more details.

I heard that fibreglass is not good to our health. Is that true?
Our filters had been thoroughly tested and the fibreglass does not leach into the
water. Fibreglass is not soluble.

What are the differences compared your filter with stainless steel filter?
The technology now is inclined towards fiberglass vessels.
• Fibreglass is lighter, stronger yet cheaper than stainless steel tanks.
• Fibreglass is more durable and suitable for outdoor.
• Fibreglass vessels do not corrode, rust or leave any unsightly stains.
• Fibreglass vessels have a seamless construction where there's no welded joints that may leak or blow out.

What is your filter tank material?
Our filter inner tank is made of Poly Propylene (PP) material and is FDA compliant.

Can the filter filters off Chlorine?
No. Waterco does not recommend to remove Chlorine from your incoming water as bacteria will grow in your overhead storage tank or along the piping of your house if Chlorine is removed.

How do I perform maintenance?
Maintenance can be easily done by switching Multiport Valve positions between "Filter", "Backwash" and "Rinse" modes. The process normally takes less than 10 minutes, with sufficient flowrate and pressure from incoming water. For detailed backwash procedure, please refer to the operating manual that comes with the product.

How frequent should I backwash the filter?
It is advised to backwash the filter at least once a week to prevent caking/hardening of filter media.

Does that warranty include the media and the MPV?
Filter Tank
5 + 5 years for residential.
2 years for commercial.

MPV
1 year warranty for residential & commercial.

Filter Media
There is no warranty for media as it will not break.

Micron W Series filter all the water entering the house providing clear water to every tap.